Standard and operating parts for use in orthopaedics, trauma surgery and sports medicine
Orthopaedics refers to a field of medicine that deals with the treatment of congenital malformations, the prevention and therapy of chronic diseases and injuries to the musculoskeletal system. Not only bones, muscles and joints, but also tendons, vessels, nerves, ligaments and bursae can create a demand for important tasks to be fulfilled. If problems occur in one of these areas, this can lead to pain or restricted movement. It is important to counteract this by using our standard and operating parts.
For example, a student at the University of Valladolid is working on the design, calculation and prototyping of a mobility mechanism with three degrees of freedom. The prototype calculates the positioning of the patient's ankle and foot malpositions to counteract problems such as clubfeet.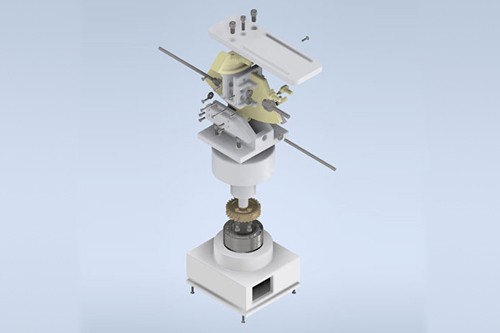 The aim of this project is to perform a scan of the joint for the subsequent manufacture of an individual orthosis in order to correct the malposition of the foot. By providing the norelem CAD data, the use of an FDM 3D printer is suitable for the construction of the mechanism. In combination with CAD software, the prototype is planned and designed, and the various prototype parts are printed and assembled using our norelem standard and operating parts.
Our norelem worm gears and norelem spur gears are used to transmit the respective force transmissions of the ankle joint in the three degrees of freedom (abduction and adduction movement, inversion or eversion movement and dorsiflexion or plantar flexion movement) for calculation. In this way, the force transmission can be precisely measured and transmitted in order to perceive patients' possible foot malpositions from the measured values, with which an orthosis can then be individually manufactured.