Development of a football throwing machine to develop catching technique
Health is a valuable commodity. That is why the norelem ACADEMY supports various colleges and projects in the field of sports. One such project was the "mobile football throwing device" in cooperation with the SBS-Herzogenaurach Technical College for Mechanical Engineering. The goal of the students was to develop a training aid that can be used to improve catching techniques in football.
The mobile football throwing machine allows a high number of passes to be ejected out of the football throwing machine in the shortest possible time with an almost identical trajectory.
3D model (based on CAD data) of the mobile football throwing machine: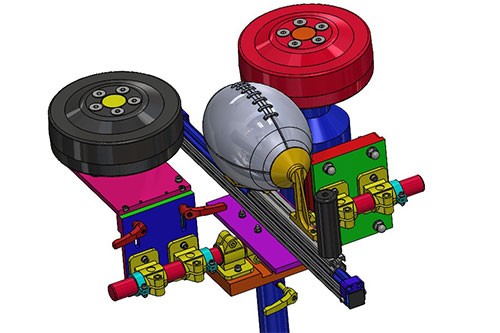 Top view of mobile football throwing machine: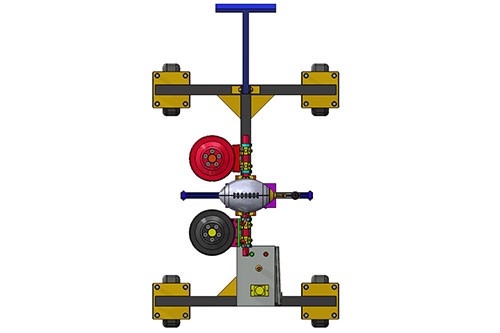 Mobile football throwing machine: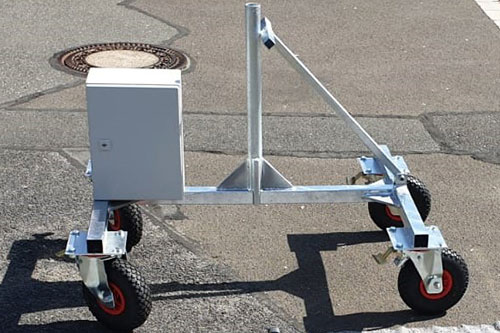 On the one hand, this allows the pass receivers to improve their catching technique extremely efficiently, and on the other hand, the quarterback is relieved and can be used effectively in other training exercises. The football throwing machine replaces the quarterback in many training exercises (the quarterback is the playmaker, pass thrower and thus the head of the offense) and thus gives the pass receiver the opportunity to improve the catching technique.
The norelem full range in the project

Our pillow block bearing flange both supports the shaft of the left drive wheel and fixes it at the same time on the adjustment plate. Thus, a consistent flight curve can be guaranteed.