Show us your construction
Engineering Newcomer Challenge enters its 8th year in 2021
For the 8th time, we are looking for the most innovative project designs from tomorrow's young engineers in the field of design and development.
The design competition is organised by norelem ACADEMY together with CADENAS GmbH, the Bundesarbeitskreis Fachschule für Technik, MDESIGN Vertriebs GmbH, and the two new participating companies TENADO GmbH and ZUKEN E3 GmbH. Following the successful implementation and organisation of the Engineering Newcomer from previous years, the Challenge is also gaining recognition internationally.
Engineering Newcomer in brief
Within the framework of the Engineering Newcomer Challenge, pupils and students of technical disciplines from a university, technical college or university of applied sciences can demonstrate their skills and present the project designs and product ideas they have developed during their training. In addition to the Engineering Newcomer 2021 award itself, attractive cash prizes of 2,000 euros each for 1st place, 1,000 euros for 2nd place and 500 euros for 3rd place await both the winners and their educational institution. In addition, norelem supports young talents with free standard and operating parts for the realisation of a variety of projects.
The submitted project works will be evaluated by a jury of experts based on the following criteria: originality, utility value, technological benefit, market opportunities, function and handling and technological implementation.
Media attention as a career springboard
The Engineering Newcomer is an excellent career stepping stone due to the media attention, the participating companies, and the chance for participants to highlight participation or even victory on their CVs. So get yourself noticed and take on the Engineering Newcomer challenge! With a little luck, you will be among the winners of the 8th edition in 2021. Learn more about the winners of the Engineering Newcomer 2020: https://norelem-academy.com/engineering-en/we-present-the-winners-of-the-engineering-newcomer-2020/?lang=en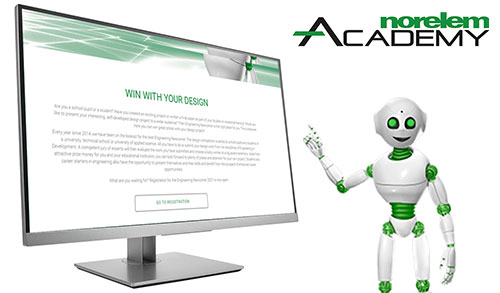 After successful registration, you can upload everything connected with your project construction in the field of engineering and development in the next step via the upload link. This may include photos, screenshots, a project description and CAD & STEP files.
If you have any further questions, please do not hesitate to contact us.