Support project in robotics: Demonstrator Central Hand
As the interest of robotics (and also robot technology) continues to grow in industry, we continue to serve this exciting subject area through the use of our standard and operating parts. Robotics deals with the attempt to reduce the concept of interaction with the physical world to principles of information technology as well as technically feasible kinetics.
Robotics
Robotics engineers invent and programme machines that are intelligent enough to interact autonomously with the environment. When a robot is used in industry, it often consists of a controller, a robot arm, and a tool or gripper. Thus, with the use of our standard and operating parts, a central hand of a robot was constructed as a demonstrator by students from the Mechanical Engineering Department at Aalen University.
The central hand shows an unintended coupling of the hand axes (secondary axes) of a robot, which was constructed using the underlying CAD data. The advantageous and compliant CAD data was also used and tested for 3D printing in various printing processes such as fused deposition modelling (FDM), selective laser sintering (SLS) and stereolithography 3D printing (SLA).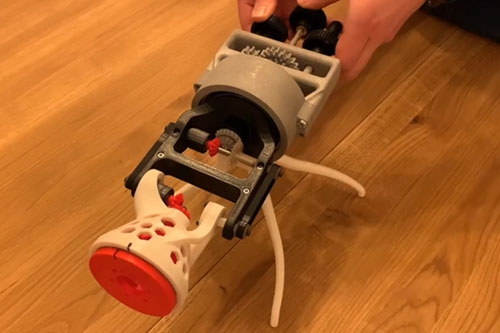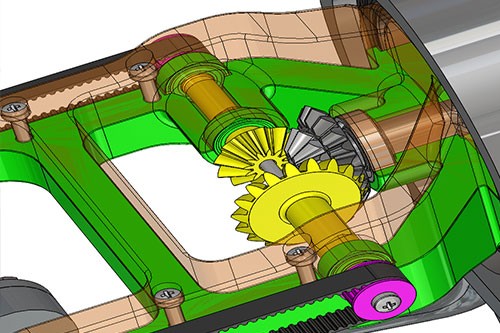 Standard parts in the project
The transmission of torque is one of the most important functions in robot technology. Thus, in the design of the central hand, our norelem deep groove ball bearings were installed in the bearing housing for the bearing of the hollow shaft of the 5 robot axes. This ensures an optimal torque transmission to the bevel gear.
The norelem deep groove ball bearings are capable of supporting high radial and axial loads in machine and plant construction as well as in robotics. The axial loads are absorbed in both directions.
norelem ACADEMY
The norelem ACADEMY is always available to help you with your project, to support you with the idea or the construction of your projects, and to help with questions about the versatile use of our products in robotics, as well as in other exciting subject areas.