We present: The winners of the Engineering Newcomer 2020
On October 6th norelem together with CADENAS, the federal working group of technical school and MDESIGN awarded the best construction projects of students and pupils. For the first time the award ceremony of the Engineering Newcomer was successfully held via an online webinar due to the current Covid-19 restrictions. For the seventh time we were impressed with the innovative entries and the level of international participation.
The first place this year went to students of the Berufskolleg für Technik und Medien in Mönchengladbach. They developed a lifting and swivelling device that enables the operator to reach goods stored in a box without much physical effort. The device can lift, lower or rotate the Euro pallet placed on it vertically and in the direction of the axis. This makes it easier for the operator to reach the parts stored inside. Especially for people with physical disabilities, picking should be made easier without replacing workstations.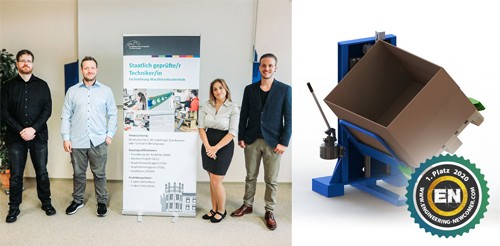 Pupils from the Technikerschule München took second place with a mobile forestry winch. This solution makes it easy to transport and move tree stumps and felled trees even in impassable terrain that is difficult to reach by car or tractor. The winch can be transported comfortably in pairs and can also be moved by a single person due to its "wheelbarrow shape".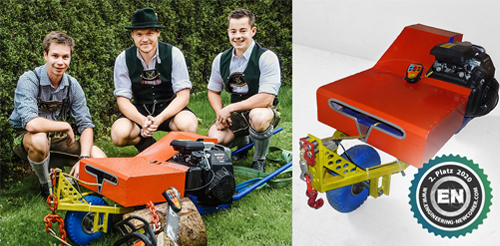 The project Metal Circular Saw came in 3rd place. Pupils from the Technikerschule München constructed a metal circular saw. The difficulties were in the details. The vibrations that occur during the sawing process were reduced by constructive measures. The team will not use the prize money for private use, but instead to further optimise the project and produce more circular saws.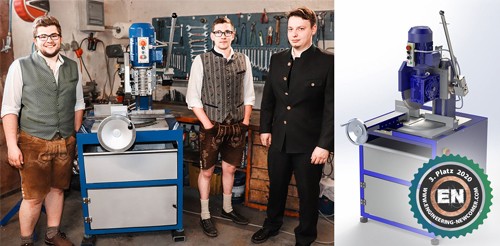 Congratulations to all winners!