Eurobot – The development of an autonomous robot
At Eurobot, an international robotics competition, we supported Team TURAG e.V. of the TU Dresden with our standard parts and components.
"Sail the World" is the motto of the Eurobot robotics competition, with the aim of developing an autonomous robot: the robot must be able to manipulate various "game elements" and thus collect as many points as possible.
To score points, the following tasks/scenarios must be solved by the autonomous robot:
Buoys that are scattered on the sea by a storm must be collected in order to build new ferry routes. The basic element here is an exact positioning of the robot on the playing field. In the further course of the game, windbags have to be erected, a lighthouse has to be switched on and finally the "anchor" has to be hoisted safely.
The "Sail the World" pitch setup at the
Eurobot: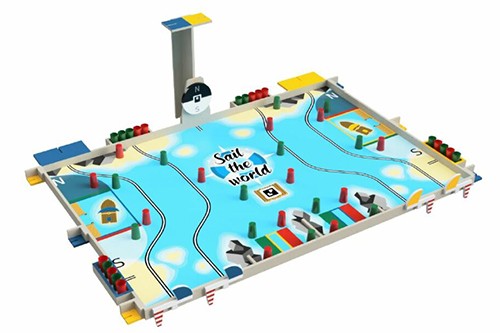 The autonomous robot – odometry
The central measuring system of the robot pose is two wheels with incremental encoders in the drive block. This measuring system is also called odometry. This makes it possible to achieve some improvements compared to the design with a pendulum. Due to the compactness of the odometry, the drive, among other things, can be exchanged.
The overall assembly of the odometry wheels in the autonomous robot: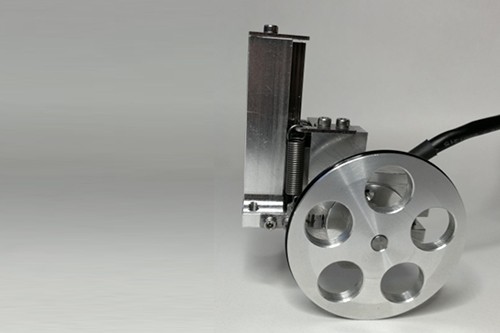 Since the odometry has only one degree of freedom, disturbing axis deviations can be avoided. The deviating tolerance is effectively reduced to a short distance between the active point and the bearing. The odometry wheels function by measuring the distance travelled, which calculates the pose of the robot. The calibrated and constantly evaluated installation positions of the wheels are the basis for the measurement. This minimises error influences such as lateral movements and slippage and guarantees measurement accuracy.
CAD models of the assembled autonomous robot: