Support project to improve the safety of firefighters in action
This funding project does not take one's breath away, but rather is intended to ensure that the air supply for firefighters in action is always guaranteed.
Together with two students from the Munich Technical School, a construction was developed using our standard parts with the aim of improving the safety of firefighters in action. The device for the compressed air cylinder is intended to make it easier for firefighters to prepare for an operation, to save time and thus to concentrate fully on the operation itself.
The greatest danger to firefighters in action are respiratory poisons such as carbon monoxide, hydrocyanic acid, chlorine compounds or hydrochloric acid, which can have a toxic or corrosive effect on the respiratory tract or lungs. To minimise this danger, breathing protection is used that is not dependent on circulating air and is subjected to elaborate TÜV tests every 5 years. Inspected gas cylinders are marked below the neck of the cylinder with a coloured ring, according to the principle of the sticker for the main inspection of a motor vehicle.
Requirement for the funding project

The conveying project or the device for compressed air bottles is intended to help automate precisely this step. To do this, the compressed air cylinder must be fixed in such a way that the valve can be loosened, the old colour marking removed and a new colour marking applied.
As a result of the usage of different materials and dimensions, the following goals arise.
Place the colour ring in a constant position
Maximum bottle pressure of 10 N/mm², otherwise the bottle walls will be damaged
Removal of the old paint marking safely and without residue
Precise amount of paint for applying the paint mark without the paint dripping or running
Suction of the sanded paint layer without it being inhaled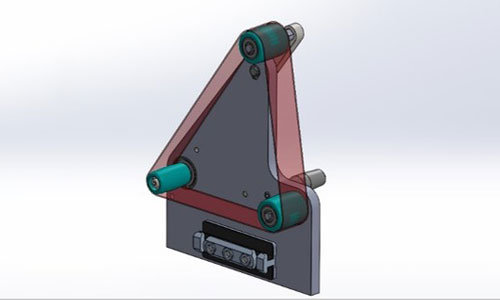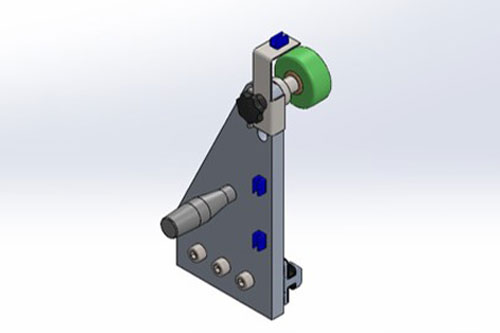 To transmit the force of the cylinder to the clamping device and to facilitate the replacement of the valve, the norelem clevis joints with snap-in pin DIN 71752 spring hinges have been integrated into the design.