Sponsored project: Creation of a robot cell (HORST 600)
In addition to plant and mechanical engineering, we also serve exciting fields of work such as robotics, automation and industrial digitalisation with our standard components. For example, we support IWT Wirtschaft und Technik GmbH, a non-profit research institution in Friedrichshafen, which designs and builds collaborative robots, with our standard components. In addition to various demonstrators and prototypes of industrial automation systems, a variety of research and development projects are being worked on there.
The robots constructed there are primarily used in industry and as training robots, and are designed in such a way that the robot makes work and everyday life easier for physically and mentally impaired people.
In the process, each robot is mounted on a mobile platform, a so-called robot cell. The robot cell not only provides a stationary robot with a work surface, but also enables flexible placement in space.
In the funded project, a team from the research institution developed a pick-and-place device that offers the robot a mobile robot cell to place the robot flexibly in space. For this purpose, the requirements for the robot cell were calculated.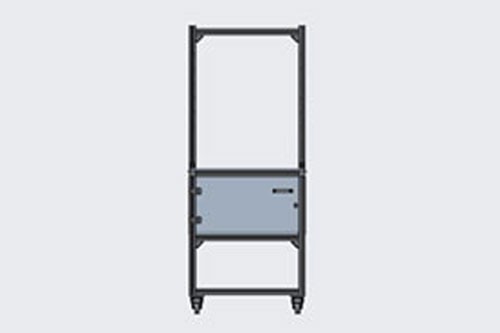 The basic structure (skeleton structure) of the cell is formed by the standard aluminium profiles from norelem, which are connected to each other with the help of the angles. The profiles are neatly and securely closed with the norelem end caps.
With the help of the norelem swivel castors and fixed castors, the skeleton structure is placed on the swivel castors and fixed castors through the aluminium profiles and thus made mobile. The robot cell can thus be easily and flexibly set up at another workplace/location.
A door functionality on the cell, which sits between the aluminium profiles, provides space for the robot controller and other equipment to be safely stored there for transport.
The HORST 600 robotic cell in operation and the IWT team: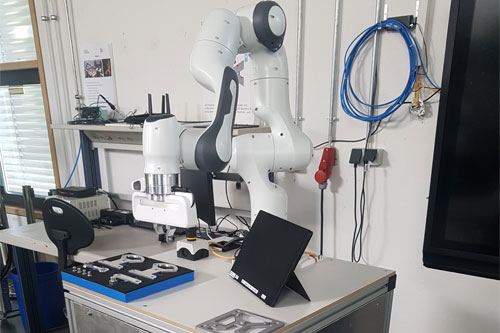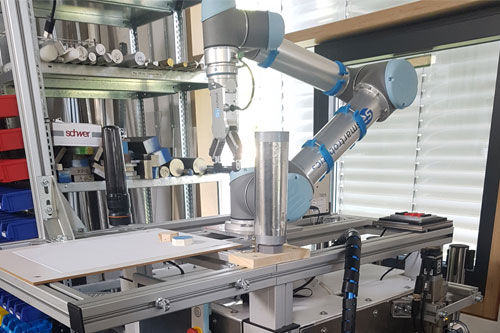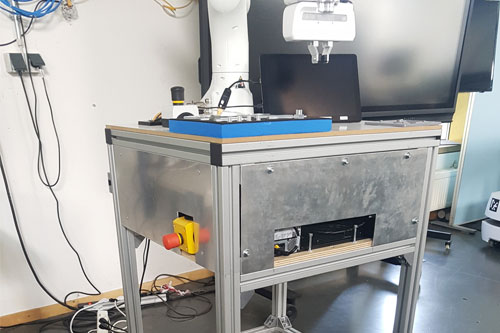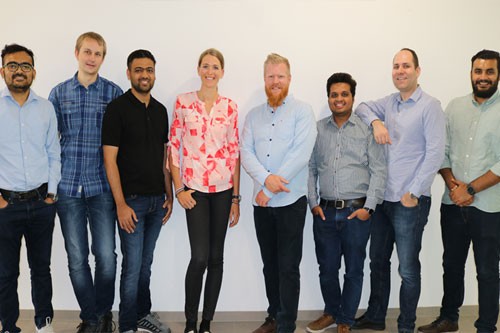 "In summary, the high quality and simple constructive integration of the elements from norelem have significantly supported us in the implementation of the robot application."