Engineering Newcomer 2022: The winners have been announced!
Once again, young designers from all over the world were able to convince with innovative projects.
On 5 October 2022, norelem selected the best design projects from students and pupils at the Motek trade fair. This year, numerous teams from all over the world submitted their projects for the Engineering Newcomer.
The range of projects was wide – including from the fields of food technology, transport, robotics, thermoelectronics, forestry and agriculture, as well as automation. norelem has been looking for the best Engineering Newcomer each year since 2014, for which pupils and students can apply with their project or final thesis in the field of engineering and development. The project is made possible by the sponsors CADENAS, Zuken E3, MDESIGN and the Bundesarbeitskreis Fachschule für Technik. A top-class jury selects the winners, who are rewarded with an attractive cash prize for the students and their educational institution.
This year, first place went to the PowerStack Multi 1600, which was developed by a team of four from HTL-Neufelden: Stefan Amerstorfer, Vitus Kehrer, Jakob Magauer and Jonas Wögerbauer designed and realised a new type of magazine for Euro pallets and their stacking frames. With a base area of 1860 x 1200 mm, it is very compact and space-saving. A maximum of 45 Euro pallets can be stored at an absolute height of 7.33 m. The stacked goods are lifted into the magazine by means of a lifting device.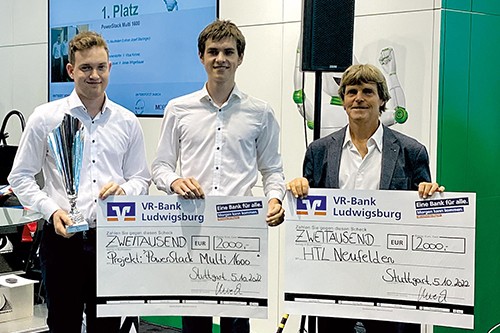 The stacked goods are then lifted from both sides by a belt drive, which is operated by an electric motor at the back of the magazine. To ensure smooth storage and retrieval, the magazine can be adapted to various conveyor aids.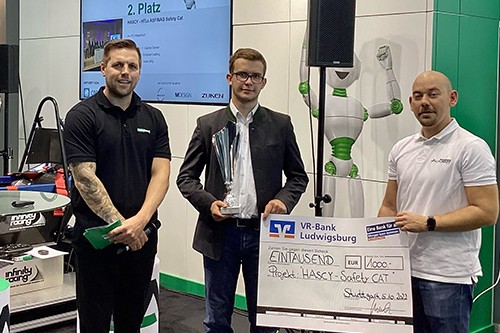 Second place was won by Gilbert and Gabriel Tanner, Lukas Frisch, Emanuel Ladinig, Daniel Morak and Luca Jörg from HTL Klagenfurt. Their project HASCY – HTLs ASFINAG Safety Cat is a cooperation with the Austrian motorway company ASFINAG. In order to be able to precisely monitor every point of a motorway tunnel in a wide variety of conditions, the project team has developed a sledge that travels at up to 100 kilometres per hour on a rail on the tunnel ceiling. It is equipped with several cameras, including a thermal imaging camera,
to detect people even in the densest smoke. In an emergency, this gives the emergency services an unprecedented overview of a dangerous situation.
In third place are Sebastian Schnehage, Moritz Exner and Oliver Körber from the Werner-von-Siemens School. Their CNC laser cutting and engraving machine for the individual production of single parts handles a wide variety of materials – in particular, it can cut Makrolon and engrave anodised aluminium. The machine impresses with speeds of at least 100 mm/s and a large machining area of at least 600 mm x 400 mm x 100 mm (X,Y,Z).